I have been looking forward to a trip to Zion for a long time- since talking with Ryan Smith at the Utah State Fair, actually. Ryan and I were discussing our bucket list of photo spots, and I mentioned The Subway. Ryan let slip that he had a four-person permit for mid-October, and he had an opening. I was all over that, and had been counting the days ever since.
I drove down Friday, after work. I had a room at the Super 8 in Hurricane- not the greatest hotel in southern Utah, but I was not planning on spending a whole lot of time in the room!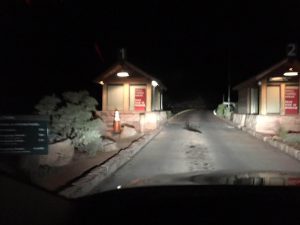 To that end, I was up and out the door at 3:30 am Saturday morning. My plan was to get to the Overlook, and shoot sunrise from there. I passed through the dark, empty gates of Zion by 4, and started up the wondrous road to the tunnel and the overlook. Never having been there, I passed the overlook parking something like three times until I noticed the small sign. As I stepped out of the car and into the night, I might as well been the only person in the world. The night was mild with very little wind, and the moon was ¾ full, so I could see this whole empty stage around me.
I still had a hike to go, a mile to the actual overlook from the road. Had it been more light, I might have been more scared of some of the drop offs. As it was, I kept humming (LOUDLY) to myself to ward off any wild animals. I came around a corner and up a small hill, and there was all of Zion laid out in front of me. A million stars overhead, striped red rock hoodoos all around, a thousand foot canyon opening up in front, and me at the very edge all alone. It was a moment that makes getting up at the ungodly hour of 3 am worth it.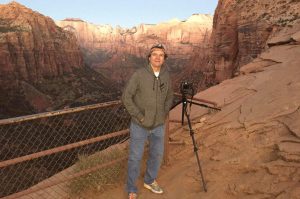 So I shot by moonlight. I shot long exposures. I shot super wide (I had rented a 14mm f 1.8 from Borrowlens.com) and I shot panoramas with a 35mm. I shot star shots and canyon shots. I moved left, and I scurried to the right.
And then the other photographers started showing up. At this time of morning, you know they are dedicated, and we all talked and had fun and took it all in. And as the sun rose, it just got better and better. The sunlight hit the turning leaves, and the white cliffs on the far side glowed in the golden light. No clouds made for a starker contrast, and so I shot some bracketed exposures to take in the wide range of light.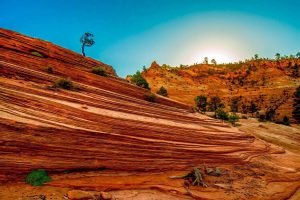 I left the overlook and proceeded east along the road toward Checkerboard Hill. There are some very interesting places along the road, and I stopped more than once to grab what caught my eye. I was almost on autopilot- something would catch my eye and I would shoot. It was sort of a visual exercise in stream-of-consciousness- I did not worry about the composition or content, I just trusted my instincts. So not all the images turned out winners, but I did get a few I do really love.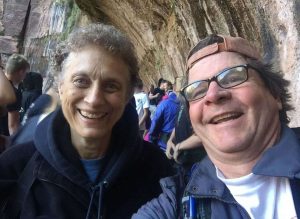 From East Zion, I drove down to the West entrance and caught the shuttle. My first stop was the Weeping Rock, where I ran into Sister Celine. I ALWAYS run into someone I know at Weeping Rock it seems! From there, I thought about lunch, so I made a quick stop at the lodge, and then headed up to the Emerald Pools. Fall is not a good time for the falls there, they were down to a trickle. The colors were nice, but I never found that shot of interest like I did on the Eastern plateau. So back to the lodge I went, for a well-deserved beer while I blew time until sunset.
Everyone has seen the picture of The Guardian at the entrance to Zion. It is a great picture to take, and yes, I wanted to take it, too. But I am very averse to taking the same picture. I need to make it my own, and try something different. Something as iconic as The Guardian is so huge, it is very hard to make it something new. Rather than shoot from the same bridge everyone else does, I went back a half mile and got a similar shot, just a little wider. Not sure if it is better; not, actually, it is not. There is a reason everyone shoots from that bridge. I am still happy with my version.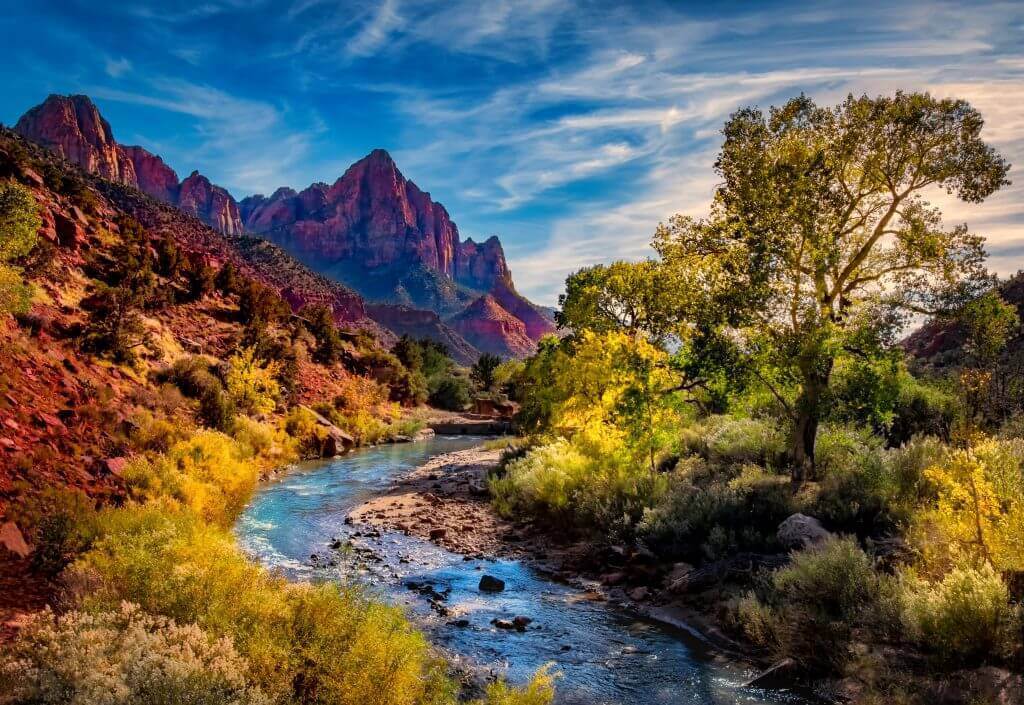 And so, at 7:30, I finally left Zion after my first full day of shooting. Sixteen hours and over 800 images. Not a bad day's work.
(Visited 24 times, 1 visits today)