This was one of my first times out with my new D810. I had it paired with a Tamron 24-70, which is an awesome little lens. Not very little or light though!
So my idea here was to get the Tower of Babel and The Organ to truly tower, and to isolate them from the other objects behind them. I did NOT want to see the Courthouse peeking out there. I wanted an angle on the giant fin of rock so as to best see the contrast of sun and shadow. I like angles a lot better than straight on. So I found this spot and made a couple images.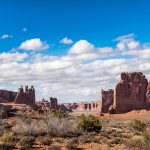 I sort of like the little cloud wisps peeking out from behind the Tower of Babel, like a little bit of smoke. This is a pretty straight ahead shot. It was done on the D810, with the 24-70 Tarmon, as I said. I used ISO 64, because I am outdoor, and I am old school. 64 means Kodachrome to me!
I picked a middle ƒ-stop because the lens is new, and I do not know how it performs. So ƒ/10 is where I shot this at. That gave me a shutter of 1/125, which is perfectly good. And with this lens, not a problem at all; tis lens has vibration control.
There was not much to post, except this was a BEAR in post! The blue is so hard to even up. I kept seeing swirls or undulations (I LOVE that word!), and I kept trying to work them out and even the gradient of the sky. It was hard; a l;ot of massaging. I had to get it close to the rocks and right there without showing a band or anything. I am very particular about my skies- I do not like them showing any banding, or any off-gradient color.
So, the final piece is not a portfolio piece, but it is not too bad. I do like it for it's roughness. It is definitely a framing I would revisit. All told, I probably spend 20 minutes on making this and the images around it, so it was very definitely a "quickie."
Prints of various sizes are available on the Fine Art America website, as well as the artists Pixel site (http://davekochphoto.pixels.com/) and the artists personal site (https://davekochphoto.com).
(Visited 64 times, 1 visits today)